Daikin (China) Investment Co., Ltd.
Migration from operations by MDM with many restrictions to CACHATTO
- Improvement of usability in BYOD environment while maintaining security -
Daikin (China) Investment Co., Ltd.
Information Technical Centre staff:


Mr. Takeshi Kurashige
- Deputy Senior Manager
Ms. Huihui Zhai
- Planning Management Section, IT Integrated Management Dept.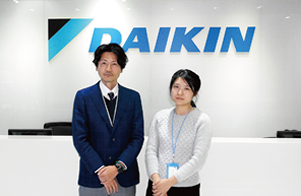 Daikin Industries, Ltd. has the world's highest sales in the air conditioning business and the second highest sales in the fluorochemical product business, and boasts an annual (consolidated) revenue of more than 2 trillion yen. It is a global enterprise with bases in 145 countries all over the world, and its share of businesses outside Japan is more than 70%*1. In China, which is regarded as the second biggest air conditioning market in the world, 'DAIKIN' has established its position as a high-class brand in air conditioning. Daikin (China) Investment Co., Ltd., which oversees the manufacturing and sales companies inside China, introduced CACHATTO in 2014 as a mobile-access tool for smart devices in group subsidiaries, and employees, mainly local employees, are utilising it in a BYOD*2 environment. We visited the Shanghai Branch and asked about the introduction of CACHATTO and how it is utilised in Daikin.

The big burden of operations with MDM
Daikin was using MDM*3 to manage the smart devices used to access their in-house systems remotely. But the management by MDM became a headache for both users and IT managers, and this led to the introduction of CACHATTO.
We asked Mr. Kurashige, Deputy Senior Manager of Information Technical Centre, who takes care of introduction planning and operation management, about how the introduction of CACHATTO came about.
'Since MDM monitors the installation of applications, users expressed concerns such as: 'I am resistant to the introduction of MDM because all the applications on my own device are revealed.' Since it takes a long time for MDM to be compatible with a new OS version even if the new version for the device is released, they also complained, 'Upgrades of OS cannot be performed immediately after the releases.''
'IT managers needed to make announcements to users to refrain from upgrading each time a new version of OS is released, which was a significant operational burden on IT managers.'
BYOD was the mainstream for mobile phones and smart devices, and it was necessary to ensure security with MDM in order to permit the use of personal devices for business. But the control by MDM caused dissatisfaction to users and IT managers because it restricted the usability for the users and was a burden on the operations for IT managers.
Therefore, Daikin introduced CACHATTO as a solution, which does not leave business data on the device and removes the need for of MDM, and started to offer the remote-access service for smart devices to group companies.
They started an investigation of products to use in the summer of 2013. Mr. Kurashige says, 'We investigated multiple products, and CACHATTO is the only one that leaves no data remaining on the devices.' CACHATTO was introduced in November of 2014 and the operation was started initially with 200 users.
Each subsidiary accesses different systems
In the previous system, remote access was limited to reading and writing email, but with the introduction of CACHATTO, accessing things like intranet sites, scheduling, and reservation of facilities is possible and is one of its big advantages.
'Different sections (subsidiaries) of the Daikin Group use different software products for managing schedules, and they are not unified. Each company accesses different systems with CACHATTO.'
'Loan employees from Japan also use the Office 365 scheduler in Japan through CACHATTO. But since the user interface of OWA (Outlook Web App) looks better than that of Exchange integration (Exchange Web Services), we would like to switch to access with OWA in the near future (using the Multi-Cloud Gateway feature of CACHATTO).'
When asked about the situation of the use of smart devices in Japan, he replied, 'This introduction of CACHATTO was executed independently in Daikin in China. We share information with Daikin in Japan by explaining the activities in China during the information exchange meetings among IT departments. But in Japan, smart phones for management by MDM are provided by the company, and BYOD is not permitted. As a result, users carry two devices, the device provided by the company for business use and a personal device for private use.'
It is helpful to be able to use multiple devices with CACHATTO
Next, we asked Mr. Kurashige about how he feels about using CACHATTO and how users are using it.
'It has become very helpful since it was introduced. Even when traveling on business trips to far-away places, we can continue discussions on the phone while referring to CACHATTO on-the-go. It is just too helpful (laughter).'
'It is also useful to be able to use 4 devices per license. We can use different devices depending on the circumstances, like using an iPhone quickly while traveling and using an iPad while working for longer periods of time in places outside or at home. We were able to use only one device when we were using MDM.' Moreover, 'it is also good that CACHATTO responds to OS upgrades relatively quickly.'
About the demand from group companies, he said, 'We are dealing with requests from group companies to start using CACHATTO.' 'We do not provide any particular training during the introduction, but we only get a few questions. I think the users are satisfied, because they would be making inquiries if they were encountering problems. We also do not experience problems of slow response because of network speed etc. for daily use.'
'The other day, a CEO of a group company who happened to be in a meeting told me that he is making good use of it. It is especially well-received that Office files attached to email can now be viewed while retaining their layouts.' The unique Office viewer installed with CACHATTO SecureBrowser improves the viewing experience of Office files with the iPhone, and the reception for it has been good.
Ms. Zhai adds, 'About 2 years have passed since introducing CACHATTO, and a total of 280 users in group companies are using it. About two-thirds of them are local Chinese employees, and the biggest number of users are in the service provider company whose employees need to work outside the office often.'
With regard to remote access from PC, she said, 'the hard disks of portable PCs for working outside the office are encrypted, and employees with the position of manager or higher can use remote access from their PC through a VPN.' 'If they feel the access procedure of the VPN to be cumbersome, or if employees with no VPN license wish to use a PC, they can use CACHATTO SecureBrowser for access instead.'
Exploring the uniqueness of CACHATTO
Lastly, we asked Mr. Kurashige about their future plans and if they had any requests regarding CACHATTO.
'We would like to raise the number of users,' he replied. 'As for requests, it would be more helpful if superiors could make approvals in the expense settlement system with CACHATTO.
Recently, similar remote access products have appeared in the market, and it is getting more and more difficult to differentiate their products. We would like to be able to expect CACHATTO to enhance the 'uniqueness of CACHATTO.''
*1 As of March of 2016
*2 BYOD: Bring Your Own Device
*3 MDM: Mobile Device Management