Nippon Life Insurance Company
Together with 'Work style reform' of the leading company in life insurance industry
Nippon Life Insurance company staff:

Mr. Yasunari Maeda
- System Planning Team, System Planning Department
- Section chief
Mr. Shingo Mizouchi
- System Planning Team, System Planning Department
- Assistant section chief
Ms. Rika Ikechi
- Cyber Security Team, System Planning Department
- Subhead
Nippon Life Insurance company staff:

Mr. Shinobu Fujita
- IT Solution Promotion Block, Infrastructure Innovation Business Department
- Infrastructure specialist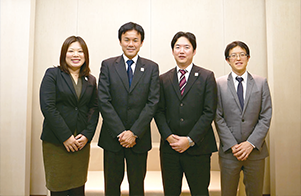 Nippon Life Insurance Company (Nissay) is a leading company in the life insurance industry with about 12 million policyholders and total assets of about \65 trillion, one of the largest in the world. It not only supplies comprehensive risk consulting services to individuals and businesses but also is one of the biggest private institutional investors in the asset management of domestic stock. Aiming at supplying the world's best security, Nissay is proactively developing its global, as well as domestic, life insurance business and asset operation business mainly in Europe, the U.S., and Asia.
In 2014, Nissay introduced CACHATTO as 'a means for viewing emails and schedules from outside the company,' and around 4,000 staff are now using CACHATTO. We interviewed Nissay's keypersons and asked about the circumstances leading to the introduction and how CACHATTO is used now.
The deciding factor for CACHATTO's introduction was security
The System Planning Department, the department we interviewed, is overall in charge of Nissay's information system, drawing up mid- to long-term business plans related to the system, formulating an execution policy, and controlling and promoting development. Nissay Information Technology Co., Ltd. is contributing to the introduction of CACHATTO, supplying its operation environment, and its deployment in Nissay. We first asked about the situation of remote access (outside business infrastructure) before CACHATTO was introduced.
'Before CACHATTO was introduced, remote access from outside was basically not permitted. As an exception, the system administrator was allowed to access the company's system from their PC at home in case of an emergency. Strict security measures were taken for that PC. There was no mechanism that could expand remote access from outside widely within the company. We introduced CACHATTO in April 2014 in response to a long-held request from our staff to 'view emails, etc. from outside'.'
The 'main reasons for selecting CACHATTO' the System Planning Department cited were these:
High security
Multi-device support
'A strict security policy was applied for use from outside the company. To support that policy, we paid attention to the security concept of CACHATTO. Not only email text, but also attached files could not be saved to terminals, nor could they be brought out. This was the deciding factor for CACHATTO's introduction.'
Good reputation from sales staff
'The main users are the officers of section chiefs and higher who are working at the head office, sales corporations, and chiefs of about 1,500 sales offices throughout Japan. Private terminals are used. BYOD*1, in essence, is implemented. It seems that they are using CACHATTO in their spare time, such as while they are out or traveling.' It seems some sales office chiefs use CACHATTO differently from people at the head office.
'Exclusive terminals were given to staff at sales offices and used for proposal activities when they visit customers. But these terminals could not use email. Therefore, a smartphone (iPhone) was separately given to the staff so that they could view emails and schedules via CACHATTO.'
Salespersons, who are often out of the office, are especially happy.
'In the field of sales, an appointment may be suddenly changed at the convenience of the customer while we are out. All the customer would have to do is to call and say, 'Look at my email through CACHATTO for details'. It really helps.'
We asked what troubles they had when they deployed CACHATTO.
'For users of BYOD, a simple manual was supplied so that they could install and set up the CACHATTO app. There were few inquiries. However, some questions were asked about how to set up an email folder because the explanation for that was not included in the manual.' At the time of introduction, CACHATTO required 'setting up a viewing folder', which is no longer needed because of subsequent functional reinforcements. We mentioned this feature during our interview and received a positive comment: 'We really want to use that'.
'Because we employed BYOD, we had many troubles in supporting the various OSs and versions of the terminals of the users at the beginning. Immediately after introduction, the iOS was updated many times or functions were restricted depending on the version of Android. In this way we had a hard time managing the operation of CACHATTO so that no trouble would occur in its use.'
'The email system of the company PC had a function that could not be covered by CACHATTO and many people asked about it. This can now be solved by contacting the CACHATTO support center. Immediately after introduction, we had trouble with the 'repeatability of an Office file' while viewing an attached file. But this has also been greatly improved.' The company has provided a favorable evaluation regarding the improvement of the quality of CACHATTO and response by the CACHATTO support center.
Tackling 'Work style reform' using own buildings
We also asked Nissay's activities toward 'Work style reform'. Nissay is trying telework, by using its own buildings, mainly in the Metropolitan Tokyo area, as satellite offices.
'The background for this decision was comments from staff saying that it is difficult for workers who have small children to concentrate on work at home, and that they want to use a base near their houses to avoid the traffic congestion they have to contend with when commuting.'
'At their desks, staff need to answer phone calls or other staff come up seeking advice, which makes it difficult for them to concentrate on creating documents. But satellite offices seem suited for work that requires concentration. It is also refreshing to work together with members of other departments with whom they don't usually work.' In this environment, they are hoping for function enhancing PC options for CACHATTO for the work infrastructure.
Expectation of 'CACHATTO Desktop' as telework infrastructure
'VDI*2 is an attractive solution as telework infrastructure but incredibly costly if it is introduced throughout the company, given our scale. We are considering using 'CACHATTO Desktop,' which allows safe operation even on PCs by using CACHATTO, which has already been introduced.'
'About three years have passed since CACHATTO was introduced. Thinking highly of the fact that no security incident has occurred, the head office has decided to expand the users of CACHATTO by about 500.' The interviewers were very happy to hear the news at the end of our interview.
*1 BYOD: Bring Your Own Device (use of private terminals)
*2 VDI: Virtual Desktop Infrastructure